Happy New Year to everyone!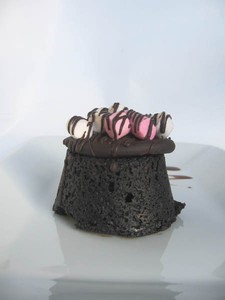 Mouelleux au chocolat
After 2 sunny weeks away in Central North Island, I am unfortunately back to work this week. Just before going away I baked - yes baked! - little yummy Xmas chocolate pudding.
Do not trust its colourful look because it is as fatening as it is delicious , you have been warned!
The below recipe has been adapted from an "All Chocolate" French cookbook I received for Christmas last year:
225 g bitter chocolate,
240 g butter,
180 g sugar,
6 eggs,
120 g flour
A dash of liquor, eg rum or Sherry is also very welcome
---


Combine eggs sugar and sifted flour in a large bowl. Melt chocolate and butter over low heat, mix energically to the egg/flour mixture. Gently oil 4 ramequins and fille them in with the batter. Bake at 180 degrees C for 11 minutes.
Let the cake cool and sprinkle with funky toppings. I used chocolate ganache and marshmallows.
Enjoy!