05 décembre 2006
On a bright and warm Saturday afternoon, there it was, my NZ Blogging by mail parcel. The mystery sender was Nigel, the lamb tail eater, new blogger from Hawkes Bay. THANK YOU SO MUCH NIGEL!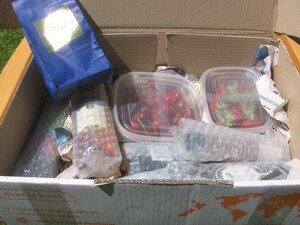 Opening the parcel was like opening a Christmas present. I had time to take a few photos before devouring the contents - especially the chocolates. In his wisdom, he also included goodies I can keep and cook with.
This delicious parcel, which is nothing short of a Christmas hamper contains:
-1 bottle of absolutely mind blowing olive oil from Hawkes Bay
-1 box of hand made chocolates
-1 bottle of verjuice, a versatile unfermented green grape juice. It can be used for vinaigrettes or poaching and Nigel also added it can be use in Martinis!
-1 bottle of lime and lemongrass drizzle, which I used to marinate chicken breasts before bbq them.
-1 bottle of olive sauce with horopito, delish'
-1 bottle of Sauvignon Blanc from Hawkes Bay
1 punnet of gorgeous cherries and strawberries, both locally grown in Hawkes Bay
Thank you again Santa!!! And of course thank you Emma for organising!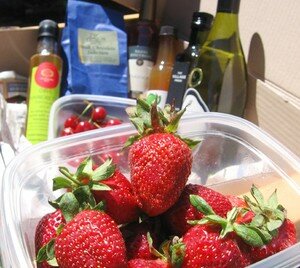 Commentaires sur NZ Blogging by mail