30 novembre 2006
I told you about NZ blogging by mail and my attempt at making brownies for the occassin. My fear of failing again was overwhelming!
I got a recipe from an all chocolate cookbook and followed meticulously, I really gave it my best shot. All that to end up with a compact layer of fudgy chocolate flan. Nothing like a brownie at all, I don't know where I went wrong. So I apologise in advance to the person who will get the parcel, not many homemades goodies.
Let's face it, I just don't have THE gift. I have decided to give up baking totally and FOREVER... which is quite a big call since my biggest dream was to be able to make a "Cerise sur le Gateau" just like Pierre Hermé.
Anyway I surrendered, made myself a cheerful cocktail and raised my glass to my lost dreams of being a wonderful pastry chef.
Ingredients:
-Pomagranate
-250g fresh, sun ripened strawberries
-Raspberry vodka to taste
-20g brown sugar
-Slice the strawberries and toss in sugar. Leave for a few minutes until it combines and forms a nice syrup.
-Halve the pomagranate and remove the seeds but turning the fruit face down on to a bowl and beat the top with a wooden spoon.
Blend Strawberries, pomagranate seeds and vodka in a blender with a cube of ice. Push through a sieve and serve chilled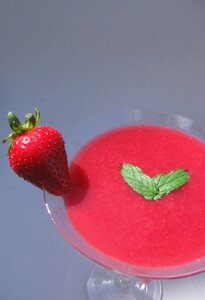 Isn't it wonderful?
Commentaires sur Drinking up summer