22 janvier 2007
First of all, sorry for not posting more often.
I finally managed to make a salmon roulade this week end, a recipe I was meant to try ages ago. Layers of creamy salmon and fluffy spinach "sponge cake". A combination made in heaven
Ingredients:
-200 fresh salmon, steamed and flaked (Skinned and boned)
-250 fresh spinach, blanched, chopped and drained
-4 egg whites - 1 yolk
-200 gr low fat cream cheese
-Milk
-A bunch of fresh dill
Preheat oven at 190 degrees C.
Combine egg yolk to the finely chopped spinach. Whisk the egg white untill stiff and fold in spinach mixture. Pour in a greave oven proof dish and bake for 11 minutes. Allow to cool
Soften cream cheese with a fork and add a little bit of milk. Add chopped fresh dill and salmon flakes.
There are 2 methods to assemble the roulade
1-When the sipnach sponge is cool, spread the salmon mixture evenly on top and roll. Cover and chill until ready to serve
2-Cut rounds in the sponge with a cookie cutter. In a ramequin, assemble layers of sponge and layers of salmon spread. Keep in the fridge to set and unmold before serving
Wordless pancake recipe
Click here for original size
More wordless recipes here, they are all so great!
09 janvier 2007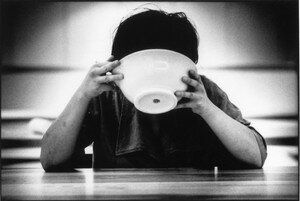 Seriously, I might sound like a grumpy mole again but I just cannot understand all that fuss around Wagamama.
In a rather uncomfortable and noisy room, this noodle bar serves Asian inspired over priced and bland dishes. "Wagamama" means Naughty Kid in Japanese and this eater unfriendly environment is indeed very reminiscant of school canteen. Are my taste buds numb or what? Why is everyone raving about this place??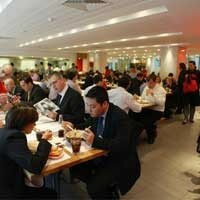 08 janvier 2007
Happy New Year to everyone!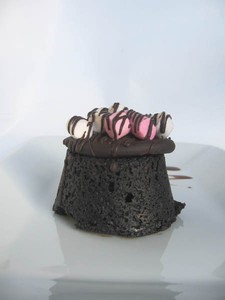 Mouelleux au chocolat
After 2 sunny weeks away in Central North Island, I am unfortunately back to work this week. Just before going away I baked - yes baked! - little yummy Xmas chocolate pudding.
Do not trust its colourful look because it is as fatening as it is delicious , you have been warned!
The below recipe has been adapted from an "All Chocolate" French cookbook I received for Christmas last year:
225 g bitter chocolate,
240 g butter,
180 g sugar,
6 eggs,
120 g flour
A dash of liquor, eg rum or Sherry is also very welcome
---


Combine eggs sugar and sifted flour in a large bowl. Melt chocolate and butter over low heat, mix energically to the egg/flour mixture. Gently oil 4 ramequins and fille them in with the batter. Bake at 180 degrees C for 11 minutes.
Let the cake cool and sprinkle with funky toppings. I used chocolate ganache and marshmallows.
Enjoy!
19 décembre 2006
A Devon man who hoped to set a world record by eating the most Brussel sprouts in a minute has failed.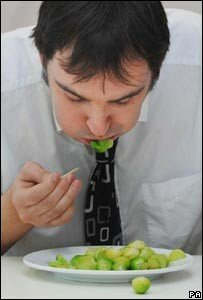 Brussel sprouts, ewwww!
Richard Townsend, 24, of Exeter, fell seven short of the target of 43, which was set in December 2003.
Mr Townsend, who had eaten a plate of sprouts every day for the last six months, said he just "lost it".
After cramming the sprouts into his mouth with a toothpick, he said: "I do not think I could face another sprout for a few days."
But then, after he popped one of the remaining vegetables into his mouth, he said: "It's a shame to waste them."
Raised £250
The accounts administrator explained his failure, saying a couple of the vegetables "slid off the plate" meaning he could not eat them quickly enough.
He had peeled then cooked the sprouts for four minutes in order to ensure they were exactly one inch in diameter.
But the record set by Dave Mynard, from London, still stands.
Mr Townsend's record bid raised £250 in sponsorship for the Mencap charity, which will be matched by his employer EDF.
Mr Townsend decided to try and break the record as part of his mission to replace his New Year resolutions with five challenges which have to be completed before the end of the year.
He has so far achieved three of them as he has appeared on TV, met someone who has starred in a computer game and has started a celebrity-signed collection of teabags.
His final challenge is to fly in a helicopter before the end of the year.